Cambridge, MA January 12, 2021 - Relativity6 today announced that Brush Creek Partners has selected Relativity6 to help streamline renewals and boost cross sell opportunities within their current book of business across property and casualty lines. Brush Creek partners will digitally transform account management with Relativity6's artificial intelligence platform for insurance brokerages and agencies.
Relativity6 connected with Brush Creek Partners as a part of the BCP Tech Accelerator cohort earlier this year. "The program gave us great exposure to the industry and we were able to connect with several potential players throughout the insurance broker space", said Alan Ringvald, CEO of Relativity6.  Brush Creek Partners hopes to speed up their renewal process and offer relevant coverage at point of renewal.
Relativity6 enables agencies and brokerages to increase retention through renewals, and generates product recommendations using a proprietary insurance product-customer behavior engine. Relativity6 also exposes helpful insights and relevant information to brokers, producers and account managers, and helps to reduce errors and omissions. Relativity6 helps agencies and brokerages save time and money, while also growing revenue organically using cross sell recommendations, all with the help of artificial intelligence.
"We're bringing the same technology being used at companies like Google, Amazon, and large carriers to the hands of insurance brokers and agents." said Abraham Rodriguez, CEO at Relativity6. "Relativity6 will enable Brush Creek Partners to make renewals faster, understand their business better, and provide more relevant product recommendations to their clients."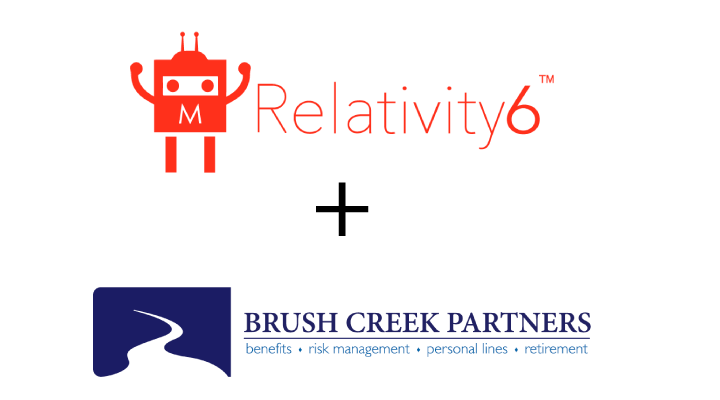 About Brush Creek Partners - Brush Creek Partners is a commercial insurance and risk management firm in Kansas City that focuses on niche markets. They look at risk management in a very innovative way and use technology to make our business more efficient and green. Focusing on niche markets like construction, private equity, technology, and cyber liability allow us to be the experts in the field and negotiate better pricing and coverage for our clients.
About Relativity6 - Relativity6, founded at MIT in 2016 is an artificial intelligence-based technology company focused on helping Insurance agencies and brokerages better service clients and grow their books of business. Their mission to put AI in the hands of Insurance advisers.